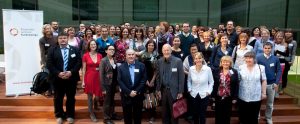 Cena pre členov Klubu fundraiserov
9 EUR

Ponúkame vám prezentácie z 3. slovensko-českej konferencie o fundraisingu, ktorá sa uskutočnila 10.-12.10.2012 v Bratislave. K dispozícii sú prezentácie na nasledujúce témy:
Plenárne otvorenie:
Per Stenbeck: Fundamentals of Fundraising
Paralelné bloky:
Richard Pordes: Talking with donors in an age of suspicion and multi-channel communication
Lucia Štasselová: Fundraiser ako stratég, ktorý oslovuje donorov, nielen širokú verejnosť
Jana Ledvinová: Peníze nebo život
Per Stenbeck: Introduction to Direct Mail
Eduard Marček: Radšej raz vidieť ako stokrát počuť – video a jeho potenciál pre rozvoj fundraisingu
Jan Kroupa: Nejdůležitější investice do fundraisingu všech dob!
Rich Fox: Establishing an integrated monthly giving programme in emerging fundraising markets
Martina Tvrdoňová: Pirátom či námorníkom na ceste za naplnením vízie
Petra Krystiánová, Jana Pacalová: Rozjezdy pro velké dárce
Pippa Carte: Raising €63m for a new Museum – Child's Play!
Zora Richtárechová: Chceme začať s direct mailom, kde na to však vziať?
Alex Buchinger: The Strategic Loop
Igor Polakovič: Skutočné on-line darcovstvo na Slovensku sa práve začalo!
Matěj Lejsal, Jana Havlenová: Fundraising a kreativita – z nouze ctnost?
Lucia Štasselová: Efektívne riadenie fundraisingových projektov – bezpečná cesta k úspechu
Kateřina Valešová: Americké sci-fi a česká realita aneb důvody proč to (ne)jde
Fox Rich: Legacy Leadership Program, How to Get Millions in Bequests Using Direct Response, Text: Ako získať milióny v závetoch použitím direct response (preklad)
Pippa Carte: Is your Board bored?
Martin Šeliga: Direct Marketing
Podrobnejší popis prezentácií.
Po uhradení poplatku, získate heslo pre prístup k prezentáciam.