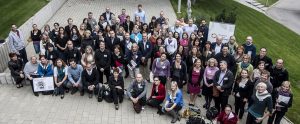 Cena pre členov Klubu fundraiserov
9 EUR

Ponúkame vám prezentácie zo 4. slovensko-českej konferencie o fundraisingu, ktorá sa uskutočnila 9.-11.10.2013 v Bratislave. K dispozícii sú prezentácie na nasledujúce témy:
Plenárne otvorenie:
Alan Clayton (UK): FIRED UP FOR FUNDRAISING
Paralelné bloky:
Simone P. Joyaux (USA): CREATING A FUND DEVELOPMENT PLAN THAT PRODUCES OWNERSHIP AND RESULTS
Tomáš Bořil (CZ): VIRAL MARKETING, DO PRÁCE NA KOLE
Mária Soboličová (SK): FORMY KOMUNIKÁCIE S DONOROM A ICH EFEKTIVITA
Tom Ahern (USA): LOVE THY READER: THE SCIENCE & SECRETS OF EFFECTIVE DONOR COMMUNICATIONS
Ruth Ruderham (UK): EVENTS FUNDRAISING: ENGAGING SUPPORTERS IN YOUR CAUSE
Petra Joklová (CZ): CRM APLIKACE PRO NEZISKOVÉ ORGANIZACE – JAK SPRÁVNĚ NASTARTOVAT FUNDRAISINGOVÝ STROJ POMOCÍ APLIKACE SALESFORCE.COM?
Alan Clayton, Ruth Ruderham (UK): PROUD TO BE A FUNDRAISER: THE ROLE AUTHENTICITY PLAYS IN EXCEPTIONAL FUNDRAISING
Jana Melicherčíková (SK): KOMUNIKOVAŤ ZNAMENÁ OVEĽA VIAC, AKO LEN PÝTAŤ PENIAZE A PODPORU, PLAMIENOK SUMMER CAMP, WATER FORWARD
Tom Ahern (USA): MARKETING BEQUESTS: THE DELICATE ART OF ASKING FOR THAT FINAL GIFT
Maik Meid (DE): ONLINE FUNDRAISING FOR CREATIVE ORGANIZATIONS
Jan Kroupa (CZ): KREATIVNÍ STEWARDSHIP
Slávek Rejthar (CZ): CROWDFUNDING JE DIVOČINA
Simone P. Joyaux (USA): INVOLVING YOUR BOARD MEMBERS IN FUNDRAISING
Tom Ahern (USA): NEWSLETTERS: HOW TO SUCCEED (AND WHY MOST FAIL) – AND WHY SOME SUCCEED BEYOND ANYONE'S WILDEST DREAMS
Ondrej Remiáš (SK): "KAMENNÝ FEJSBÚK" NA ZAČIATOK, ALEBO SME NA VIDIEKU A SNAŽÍME SA PREŽIŤ
Maik Meid (DE): DONATIONS AS A GIFT – CAUSE-RELATED DONATIONS FOR YOUR ORGANIZATION
Tomáš Halász (SK): OBRAZOM K PENIAZOM
Roman Baroš (CZ): NAKOPNI SVŮJ PROJEKT PŘES CROWDFUNDINGOVÝ PORTÁL NAKOPNI.MĚ
Plenárne uzatvorenie:
Tom Ahern (USA): FOLLOWING THE PATH TO DONOR NIRVANA: THE 6 REALIZATIONS APPROACH
Podrobnejší popis prezentácií.
Po uhradení poplatku, získate heslo pre prístup k prezentáciam.