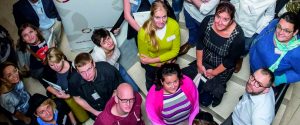 Cena pre členov Klubu fundraiserov
29 EUR
Ponúkame vám prezentácie zo CEE Fundraising Conference, ktorá sa uskutočnila 14.-16.10.2015 v Bratislave. K dispozícii sú prezentácie na nasledujúce témy:
Complete programme 
Program details
Speaker profiles
SK-CZ Konferencia
Lucia Štasselová (SK): Strategický fundraising ako riadený proces
Jan Gregor (CZ): Vztahový fundraising – od řízení toků darů k řízení vztahů s dárci
David Kotora (CZ), Martina Kormanová (SK): Transparency International Česko a Slovensko: Protikorupčná fundraisingová cesta
Tomáš Vyhnálek (CZ): Jak přivést 17 organizací k první kampani propagující dědictví v České republice
Juraj Stankay (SK): Ako získať a využiť program Google pre neziskové organizácie?
Jan Kroupa (CZ): První slušná data o dárcovství v České republice
Jarmila Cihlářová (CZ): Lajky jsou tu málo platný… aneb co společného může mít hiphop, humanitární organizace a fundraising
Jana Ledvinová (CZ): Kluby absolventů – záchrana pro naše vysoké školy anebo zbytečná investice?
Opening Plenary
Bernard Ross (UK): The Influential Fundraiser: How To Influence High-Value Givers In A One-To-One Setting > Introduction to successful communication for results
Parallel Workshops
Patrick Mahassen (DE): Mission Impossible? How To Fundraise Successfully For Difficult Causes
Tomasz Michałowicz (PL): Those Who Are Afraid, Die Every Day. Those Who Are Brave, Die Just Once. Be Brave, Have A Plan, Make Money. And Change The World
Jiří Krupa (CZ): Low-Cost Integrated Fundraising For The Brave
Maria Ros Jernberg (SWE): What's Up – How To Deal With Some Of The Latest Trends In Fundraising
Bernard Ross (UK): Leadership > Finding Your Style > Emotional Intelligence at work > You're smart… but are you really Emotionally Intelligent?
Bernard Ross (UK): Strategy > Cows, Stars, Children and Dogs… where's your Big Idea? > Does your Big Idea look Red or Blue?> If you're searching for the Big Idea, get a map to guide you… > How will your Big Idea be nurtured and developed? > If you're looking for a Big Idea… you've got four choices > Is your Big Idea Great…or merely Good? > So should you or shouldn't you go ahead with your Big Idea?
Stefano Malfatti (ITA): The Power And Joy Of Building A Legacy Relationship
Suzanne Cole Nowers (USA): Grow Your Bottom Line 100% Through Online And Offline Testing
Colin Delany (USA): When Advocacy Meets Fundraising: How To Use Political Issues To Drive Donations
Richard Ďurana (SK): Selling Ideas Versus Selling Compassion
Sylwia Kobayashi (PL): Do You Need A Fundrasing Strategy? Let's Start Today!
Marcelo Iniarra (ARG): Social And Digital Storytelling: New Trends To Share Your Causes!
Suzanne Cole Nowers (USA): Learn From The Biggest Mistakes Of The Past Year!
Zuzana Duchová (SK): A Wedding As A Crowdfunding Project. The Story of A Site-Specific Ritual On The Verge Of Authenticity
Suzanne Cole Nowers (USA): Membership Fundraising In The Cultural Sector
Magda Sadłowska, Karolina Błaszczyk (PL): Are You Ready For An Individual Fundraising Campaign? A True Story About Building Fundraising In An NGO
Closing Plenary
Marcelo Iniarra (ARG): Fundraising Powered By Ideas: The Best Kept Secret
Po uhradení poplatku, získate heslo pre prístup k prezentáciam.