The course focuses on how to get donations from a large number of supporters for a chosen idea or project.  
Characteristics
Crowdfunding is increasingly becoming a recognised new field in fundraising, representing a new tool for raising funds, mainly through the internet, despite the fact that the principles it works on have already been in use for some time. The internet offers a unique chance of success for smaller projects and organisations because it allows them to get practically the whole world to contribute to financing.
Course participants will be given information about the criteria for effective crowdfunding, trends and specifics of crowdfunding, how to set up and carry out a crowdfunding campaign, and successful examples of "financing from the crowd". They will also have the chance to propose their own plans for a crowdfunding campaign, which they will later be able to carry out in their own work.
The course utilises its lecturers' lengthy experience and know-how in organising fundraising campaigns, through the use of presentations, discussions, group work and practical illustrations.
Target Group
The course is for anyone who:
Is interested in getting a basic overview and necessary information for successful crowdfunding;
Needs to know their way around the new possibilities and challenges for fundraising of social media and peer-to-peer support;
Wants to try crowdfunding as a financing tool.
Course Topics
The phenomenon of crowdfunding

- development and trends, principles, differences compared to "traditional" fundraising;

Crowdfunding campaign strategy

- crowdfunding campaign preparation, realisation, and evaluation;

Communication when crowdfunding

- how do I get people interested and involved? Messages, videos, social media;

Campaign realisation capacity

- necessary communication capacity, payments, sending benefits;

Crowdfunding portals at home and abroad

- characteristics, aims, pros and cons for participants from Slovakia;

Example studies

- campaigns from the fields of culture, start-ups, and politics, successful and unsuccessful challenges;

Practical part: Design your own crowdfunding campaign

- what project, service or product do you want to finance? What will be your offset system? Who should you go to with your appeal? How are you going to communicate?
Takeaways For Participants
New information and inspiration for crowdfunding development,
Course presentations, including presentations from the CEE Fundraising Conference (for an additional fee),
Expert domestic and foreign material/texts on the issues raised in the course, concrete examples, example studies, recommendations for other books and internet sources
A basis for launching their own crowdfunding campaign.
Mgr. Katarína Bartovičová
Deputy Chair
Starting as an activist in 1997, Katarina went on and worked for Greenpeace Slovakia as a Fundraising and PR Manager between 2001-2010. She was in charge of donor acquisition and management, personal income taxes allocations and financial management. She had also volunteered for Amnesty International Slovakia and later became the organisation's member and president of its Coordination Council. She has been the Consultant for and Deputy Chair of the Slovak Fundraising Centre since she co-founded it in 2009, being mainly responsible for building individual and corporate giving. In 2016 she started working as a fundraising manager at European Digital Rights in Brussels, whose goal is to protect human rights and freedoms in the digital environment. She also works as a fundraiser for Post Bellum.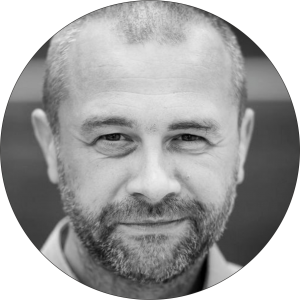 Ing. Eduard Marček, MA, PhD.
Chair
Eduard has been working in the non-profit sector since 1997, and has rich experience from many consulting and training projects at home and abroad (e.g. strengthening fundraising capacities of non-governmental development organizations in four countries of Central Europe in collaboration with the UK's Resource Alliance). As a Consultant, he deals with NGO fundraising and financing and cross-sector collaboration. He provided consulting services to a number of domestic and international non-governmental organizations and worked on various analytical studies across Europe. Since February 2018 Eduard works as a Head of Individual Fundraising for Transparency International Slovakia. Eduard is a Co-Founder and Head of the Slovak Fundraising Centre and between 2019-2021 he served as a President of the European Fundraising Association.